Kingston Access Services (KAS) is a charitable non profit organization, under the laws of the Province of Ontario. It is funded by the City of Kingston, passenger revenue, and donations. KAS oversees the operations of the Kingston Access Bus (KAB). Kingston Access Bus provides over 80,000 trips annually to those who qualify for "specialized transit" within the City of Kingston.
---
---
We've moved!
Join us at www.kingstonaccessbus.net
---
---
PERMANENT BOOKINGS (Oct 5, 2020 update)
There are approximately 400 permanent bookings each week which have been on hold since March/April due to Covid closing many programs and facilities. We have not been accepting any "new" permanent booking requests to ensure space for when the "existing" (i.e. pre-Covid) permanent bookings resume. However most programs and facilities which remain closed at this time have no idea of when they may resume operations. As a result effective November 1, 2020 any "existing" permanent booking which has not resumed being used by that date will be cancelled permanently. Passengers will need to contact us to reapply for permanent bookings when their programs/facilities re-open. We are now accepting "new" permanent booking requests. Please note:
Each hour we endeavour to maintain approximately a 50-50 mix of bus availability between permanent bookings and on-demand bookings (i.e. non-recurring trips). Thus to ensure room for "on-demand" bookings not all permanent booking requests can be accommodated.
A permanent booking must originate from and travel to the same destination, on the same day of the week at the same time every week. Once set up, each individual permanent booking must be used unchanged a minimum 75% of days over a 3-month period. Permanent bookings are automatically cancelled on stat holidays, or days observed in lieu of a stat holiday by Kingston Access Bus. Those cancellations on stat holidays do not count towards the 75% threshold.
---
(as of Thursday, July 2, 2020):
Kingston Access Bus is operating with limited service as most community programs and services have been suspended. Bookings accepted starting 14 days in advance of the trip date.
Effective June 27, 2020: As per KFL&A Public Health, masks are mandatory in all public commercial establishments. This includes transit. All passengers must wear a mask when using Kingston Access Bus, unless unable to do so due to legitimate medical conditions. Any passengers, companions, and attendants must use the vehicle's lift for entering/exiting the bus if they are not wearing a mask.
Our buses are not thoroughly sanitized following every passenger, nor as public transit are you assured of being the only passenger on the bus.
Our office hours for trip reservations have changed: 7:30am to 5pm
o From 5pm to 7:30am our phones will be answered by our after-hours answering service. Please note the after hours service cannot make trip reservations.
For the latest information please go to the Kingston Access Bus FaceBook page, or sign up for electronic e-mail alerts.
---
INFORMATION FOR PURCHASING MONTHLY PASSES (updated August 20, 2020):.
Effective September 1, 2020 Kingston Access Bus will resume charging fares. Passengers will be required to pay $3.25 cash (exact change only); or provide a ticket; or have a September monthly pass.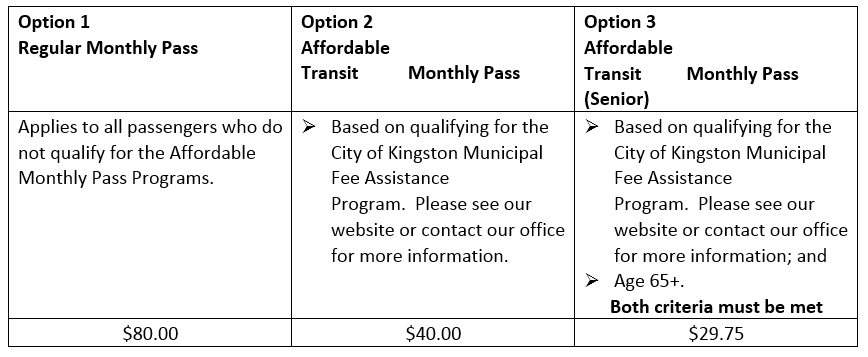 If you need to purchase a monthly pass, the following methods are accepted (if possible, please use options "a" or "b" as this assists in social distancing and reduces the physical handling of cash/cheques/debit card machines):
a) Via credit card over the phone (613-542-2512).
Monday-Friday from 9am to 5pm only.
Please note: debit card payments cannot be done over the phone.
b) Via Interac E-transfer.
Send your payment to: payments@kingstonaccessbus.com
Put the name of the passenger in the comments so we know who the payment is for.
Please note: Interac E-transfers are ONLY for monthly pass purchases, and is a temporary option during COVID-19.
c) Via cash, cheque, credit card, debit card at KAS offices.
Please note: As KAS offices are not open to the public at this time, all in-person purchases are BY APPOINTMENT ONLY Monday-Friday 9am to 5pm and will be done outside in our parking lot. Walk-ins are not permitted.
All persons coming to our offices are required to wear a mask when in proximity of our staff.
d) By providing a cheque or cash (exact payment only) to a driver.
Please note: Drivers accepting cash for monthly passes will be in place temporarily during COVID-19.
---
---
| Home | KAB | KAB Registration | KAPS | Route #9 | Contact | What's New |