Mission Statement:
To provide, in a safe and courteous manner, a reliable, efficient, transit service for persons having impaired mobility.
Kingston Access Bus services are for residents of the City of Kingston who are unable to use conventional fixed-route transit (provided in the City of Kingston by Kingston Transit) due to physical disability as per the Integrated Regulations of the AODA. Those with cognitive disabilities may be eligible if their cognitive disability severely impacts their physical ability to use conventional transit facilities and vehicles (e.g. physical ability to board a conventional bus). Eligibility is considered on a case-by-case basis and is not based on a specific health condition, but how a specific medical condition impacts mobility. Health care providers cannot guarantee eligibility.
It is necessary to register in order to use the service. For an application form, please call our office at 613-542-2512, or obtain electronically by clicking the KINGSTON ACCESS BUS (KAB) REGISTRATION tab. If you do not reside in the City of Kingston please contact your local municipality regarding specialized transit services.
Cost of Service:
$2.75 per person, each way. Drivers accept cash (exact fare please as drivers do not provide change) or bus tickets which are available in books of ten for $27.50. Tickets can be purchased from a driver, or at our office.
Passengers with tickets that have a fare value of $2.50 will be required to provide additional fare to equal $2.75 (for example a passenger will be required to provide the additional 25 cents if they have a ticket worth $2.50).
One traveling companion or support person may accompany passengers during peak hours of Monday-Friday 8am-6pm. Additional companions or support persons may travel during all other operating hours provided there is seating available when the trip booking is made. Please advise the booking agent when you are making your trip reservation that you will be accompanied. Companions and support persons travelling with a passenger must pay regular fare as well.
Passengers may apply for a "Support Person Pass" which will provide free transportation to one support person. A support person is a person whose presence is required to assist the passenger with communication, mobility, personal care, or medical needs. Passengers are required to complete an application and have a healthcare practitioner confirm the need for a support person. To obtain an application for a support person pass, please ask your driver, or contact our office at 613-542-2512 or kab@kingston.net.
Office Hours:
Weekdays: from 7:30 am to 8:00 pm.
Saturday: from 9:00 am to 8:00 pm.
Sunday: from 9:00 am to 6:00 pm.
Bookings can only be made during regular office hours.
After hours Kingston Access Bus uses an answering service.
The office is closed on most stat holidays.
Hours of Service:
Weekdays: from 7:30 am to 11:00 pm.
Saturday: from 9:00 am to 11:00 pm.
Sunday: from 9:00 am to 9:00 pm.
STAT HOLIDAY SERVICE.
Kingston Access Services operates on all stat holidays with limited service.
Subscription/Permanent trips are automatically cancelled on all stat holidays and/or days observed in lieu of stat holidays. It is the responsibility of the passenger to call to reserve the bus if transportation is required on a stat holiday or day observed in lieu of a stat holiday.
Bookings are accepted 2 weeks in advance, first come-first serve basis.
Restrictions apply to trips outside of the City of Kingston limits. For more information please please see "Trip requests outside of regular service area", or call our office @ 613-542-2512.
KAS offices are closed on all stat holidays. Our phones are monitored by an after-hours service who can handle cancellations or inquiries. Please note: The after-hours service cannot make any bookings.
TRIP REQUESTS OUT OF REGULAR SERVICE AREA
As the City of Kingston is the only municipal government that provides funding to Kingston Access Services (KAS), we limit our "regular service area" to the geographic area of the City of Kingston. We do however receive frequent requests from registered passengers for trips to/from areas outside our regular service area. KAS is not obligated to accommodate trip requests outside the regular service area. However such requests will be evaluated based on the following criteria:
Destinations outside KAS's regular service area within 10km drive distance may be accommodated at the discretion of KAS. The prevailing additional kilometre charge will apply.
All trip requests with a destination greater than 10km drive distance from the regular service area require the vehicle to be chartered by the passenger(s).
Stat holiday booking requests for trips within the 10km drive distance from the regular service area may be accepted starting 7 days in advance of the date of the stat holiday. Additional kilometre charges are increased on all stat holidays. No trip requests with a drive distance greater than 10km from the regular service area will be accepted on Stat Holidays.
---
TIPS on using the Kingston Access Bus:
Trip requests can be made up to 14 days prior to the day of trip required (for example bookings for June 22nd start being accepted on June 8th) up to one hour in advance of the required time. However please note that the more advance notice provided increases chances of availability. If a vehicle is not available at the time you request, an alternate time may be available. Depending on the time, origin and destination of the trip, transportation may not be available. Kingston Access Bus accommodates 97% of trip requests we receive.
All bookings are made on a "first come, first served" basis. Kingston Access Services does not prioritize trips based on the purpose of the trip.
Permanent bookings are available for those who travel on a regular pre-determined basis to/from the same destination. Please note that permanent bookings are automatically cancelled on all stat holidays.
Cancel appointments as soon as you are aware you do not need the booking. Cancellations may be made in the evening with the answering service.
No-shows/late cancellations: Passenger no-shows or late cancellations (cancelled with less than 24 hours notice) limit our ability to provide service to others who may have required transportation at that time. Please see the "What's New" section for our policy on excessive no-shows and late cancellations.
You will be provided with a "door to door" service, however, please do not ask the drivers to assist you beyond the front door of your destination. Drivers will assist you (in a non-electric wheelchair) up no more than two steps.
Drivers may arrive within a "window" of 5 minutes before and 5 minutes after your appointment time. Please be ready to go, within that "window". Drivers will wait for 5 minutes for passenger to show before leaving for their next scheduled stop. Most KAS vehicles are equipped with Automatic Vehicle Locators which can be used to confirm exact time of arrival and departure..
Please refrain from wearing scented products while being transported.
No smoking on the KAB vehicles.
All passengers must wear KAB seat belts.
Scooters and wheelchairs must be no longer than 50 inches, and no wider than 31 inches.
Passengers utilizing a 3-wheel scooter are required to transfer to a regular seat during transit. Under no circumstances will a passenger be transported while on a 3-wheel scooter. Passengers must be able to transfer to/from the 3-wheel scooter and a regular seat with minimal assistance from the driver. All passengers wishing to use a 3-wheel scooter must update their registration with Kingston Access Services to indicate that they utilize a 3-wheel scooter.
Kingston Access Services reserves the right to refuse to transport any mobility devices that cannot be safely secured and transported.
Please remember that items are limited to those which can be handled safely by the passenger and/or their companion while boarding the bus, in-transit on the bus, and exiting the bus. Drivers are not required to load/unload items. During transit, items must be safely secured by the passenger & companion, and not block aisles. Items which cannot be safely secured will not be transported.
---
Visitor Policy:
Individuals with disabilities who visit Kingston may use Kingston Access Bus service for 14 days each calendar year. Individuals must be registered with a paratransit provider where you live OR meet KAS eligibility criteria (please note that an assessment may be required). Please call Kingston Access Services in advance of your visit at (613) 542-2512 to set up this temporary service. Persons requiring service for periods in excess of 14 days per calendar year MUST register with Kingston Access Services. All visitor trips utilizing KAB services must be within City of Kingston limits.
---
Permanent Bookings:
Permanent bookings are available for those who travel on a regular pre-determined basis to/from the same destination at the same time. Approximately 52% of all trips completed by Kingston Access Services are permanent bookings. The following rules apply:
Must be a minimum of 4 weeks. Requests for subscription bookings are accepted starting 4 weeks in advance of the first date transportation is required.
May be put on "hold" for a maximum period of 4 weeks. Any request resulting in a permanent booking being on hold for a longer period will be subject to review by KAS. Please note: Upon 2 week's notice by the passenger, permanent trips on hold may be reactivated.
The established destination of a permanent booking may, upon request, be altered providing change is within reason and can still be accommodated by the scheduled vehicle.
All permanent bookings that fall on a statutory holiday are automatically cancelled by KAS. It is the responsibility of the passenger to contact KAS if a trip is required on a stat holiday and/or any day designated in lieu of a stat holiday. Please check the KAS website for more information on stat holiday schedules.
A permanent booking must be used at least 75% of the time over a 3 month period. Passengers with a permanent booking not meeting this minimum usage may be contacted to be made aware of possible actions up to and including suspension or cancellation of booking.
In order to retain some availability for non-permanent booking requests, Kingston Access Bus may limit new permanent booking requests for certain time periods.
Our highest volume of permanent bookings are for:
Monday-Friday inclusive: 7am-9am, 3pm-6pm, 9pm-11pm
Saturday: 4pm-6pm, 9pm-11pm
Sunday: 9am-1pm
Please note: Passengers can still call to book trips for those times (starting 14 days in advance); however we will not be approving such requests on a permanent basis. We will maintain a wait list for permanent requests as availability permits them to be accommodated.
Finally, from time to time KAB may have more demand than capacity, so we may not be able to accommodate you every time, however we will do the very best that we can.
For more information please contact our office.
---
NO-SHOW & CANCELLATION POLICY
GUIDING PRINCIPLES:
Passenger no-shows and excessive cancellations, particularly when they are received with limited notice have a direct impact on the effectiveness of Kingston Access Services (KAS) to meet the needs of our over 2,400 registered passengers. Providing a high level of trip availability and fulfillment within the funding provided through passenger fare revenue and the City of Kingston is a priority of Kingston Access Services that benefits our passengers and the community as a whole. We recognize that there may be circumstances out of the control of passengers that contribute to occasional no-shows or late cancellations. However each passenger is responsible for maintaining acceptable levels of no-shows or late cancellations. KAS's policy on no-shows and cancellations will be similar to established policies at many other specialized transit organizations in the Province of Ontario.
RATIONALE:
From the period of June-November 2011 all trip requests Kingston Access Services receives can be allocated to the following categories: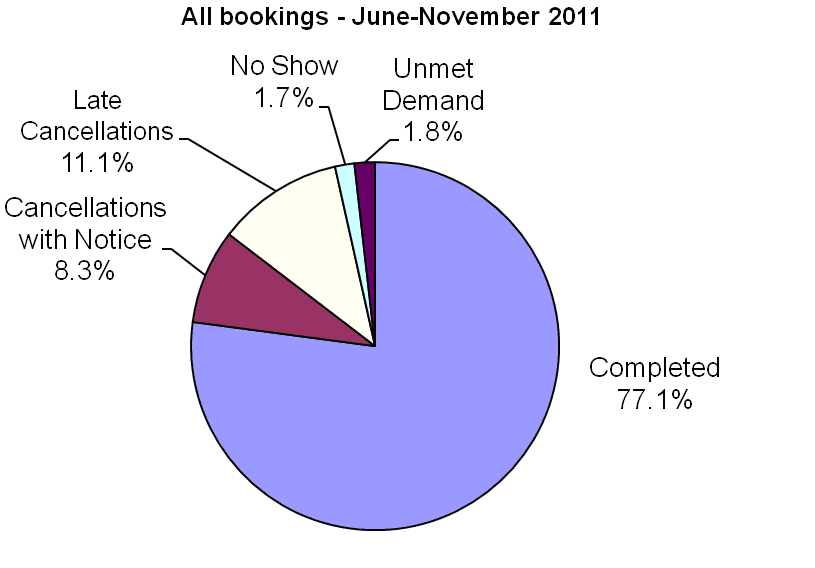 Nearly 13% of all trip requests KAS receives are cancelled with less than 24 hours notice or the passenger is a no-show. This provides limited opportunity for KAS to coordinate trips for other passengers who requested trips at those times with no availability. Each year the number of trip requests that KAS receives increases thus the demands on our service grow as well.
DEFINITIONS:
Completed Trip: A trip where the passenger was transported as scheduled.
Late Cancellations: A trip cancelled by a passenger where less than 24 hours notice has been provided to KAS.
Cancellation with Notice: A trip cancelled by the passenger where they have provided more than 24 hours notice to KAS of the cancellation.
No-show: When a passenger fails to show for a scheduled trip at the scheduled pick-up location. Passengers are required to be ready 5 minutes before their scheduled time as the KAS vehicle may arrive at a pickup point up to five (5) minutes before the scheduled pickup time. When a passenger is not at the designated pickup area, drivers will wait five (5) minutes from the time of arrival, upon which they will depart. Note: Most KAB vehicles are equipped with Automatic Vehicle Locators (AVL) technology that confirms the time that the KAB vehicle was at the required location should a passenger question the time of arrival and departure of the vehicle. Cancelling a trip "at the door" with the driver is considered the same as a no-show.
Unmet Demand: Trip requests that cannot be accommodated by KAS due to no availability as a result of previously booked passenger trips at the requested time. KAS maintains a "wait list" in the event a trip becomes available due to passenger cancellations.
POLICY CONDITIONS:
This policy applies to any passenger who in a calendar month has more than ten (10) late cancellations and no-shows of any combination.
1. This policy will become effective March 1st, 2012.
2. Late cancellations and no-shows are recorded on a single one way trip basis. A late cancelled round trip is two trip cancellations.
3. Return trips are automatically cancelled when a no-show occurs on the first trip of a round trip. A no-show round trip is two no-shows unless the passenger contacts KAS in advance to indicate they still require the return trip.
POLICY ACTIONS:
1. After exceeding the policy conditions for the first time in a calendar month period, an initial advisory letter will be issued outlining this policy, and informing the passenger (or their registered guardian) of further progressive action that might be undertaken.
2. Upon exceeding the policy conditions within a 4 month period from the date of the initial advisory letter, Kingston Access Services will contact the passenger (or their registered guardian) directly to discuss this policy and inform of further progressive action that might be undertaken.
3. Upon exceeding the policy conditions within a 4 month period from the date of the second infraction the passenger and/or registered guardian will be required to meet with the Executive Director to explain their continued non-adherence to this policy.
4. Upon exceeding the policy conditions within a 4 month period from the date of the third infraction the Kingston Access Services Board of Directors will review and implement further progressive actions potentially including restrictions on service. Passengers and/or their registered guardian will be invited to make submissions to the Board before any service restrictions are imposed.
Circumstances (i.e. major snowstorm) that results in late cancellations or no-shows by a substantial number of passengers may be considered by the Executive Director in advance of determining if a passenger has exceeded the policy. Other unusual circumstances beyond the control of the passenger will be given consideration by the Board of Directors at step 4.
Unusual circumstances beyond the control of the passenger may include, but are not limited to:
Unplanned passenger hospitalization (certification may be required);
Cancellation of a medical appointment, initiated by the medical practitioner (certification may be required);
Arrival by KAS outside of the pick-up window (AVL technology will be utilized to confirm exact arrival and departure of KAS vehicle).
Major snow/ice storms or utility breakdown resulting in closure to many Kingston businesses and services.
---
DIGITAL RECORDING SURVEILLANCE SYSTEM USAGE POLICY & PROCEDURES
I. Purpose
The installation of Digital Recording Surveillance Systems in vehicles operated by Kingston Access Services (KAS) is meant to assist in the collection of information related to the safety and security of employees, passengers, property, and to assist with the investigation of unlawful activities, accidents, claims or potential claims involving Kingston Access Services, including investigations into inappropriate behaviour which potentially violates KAS policies.
Kingston Access Services recognizes the need to balance the right to privacy of individuals whose images and voice are captured on digital recordings made by the digital recording surveillance system with the need to provide for the safety and security of employees, customers and property, to detect and deter unlawful and/or inappropriate behaviour/actions and to assist with Internal Investigations.
Buses equipped with digital recording surveillance systems display a written notice informing customers of the use of this equipment consistent with Section 29 of the Municipal Freedom of Information and Protection of Privacy Act (MFIPPA).
II. Definitions
"Authorized Personnel" means Management and those Kingston Access Services supervisors directed by Management to gain access to Digital Recording Camera Devices and to undertake one or more of the following functions: to retrieve, download, view, secure, copy and distribute Digital Recordings. "Digital Recording Surveillance System" means audio/visual surveillance equipment capable of recording images and sound in a digital format used on buses.
"Digital Recording(s)" means the data (audio and video) created and stored as a result of the use of Digital Recording Surveillance System.
"MFIPPA" means Municipal Freedom of Information and Protection of Privacy Act. "Internal Investigation" means an investigation undertaken by Kingston Access Services.
III. Scope of Use
The following are guidelines recognizing that any use of Digital Recordings must not be inconsistent with existing employment policies and agreements (collective agreement) in place with employees and Kingston Access Services as an employer and not contrary to law including privacy legislation.
1) Kingston Access Services installs Digital Recording Surveillance Systems and uses the Digital Recordings generated by this equipment to:
a) enhance the safety and security of employees and passengers and assist Law Enforcement in conducting investigations of breaches of law;
b) safeguard KAS assets, by assisting in efforts to reduce vandalism and protect against the theft and/or destruction of property;
c) investigate and evaluate claims that may be or have been made involving KAS, including potential or actual claims in respect of a workplace incident and, in the case of an employee who reports that he/she was injured at work, to review and as necessary, forward Digital Recordings to adjudicators, regarding the workplace injury;
d) assist KAS in substantiating and making claims against others including passengers;
e) limit loss due to fraud, theft or breaches of operational procedures and/or policies;
f) investigate and evaluate claims of injury by passengers while being transported on KAS vehicles;
2) Where inappropriate conduct or behaviour on the part of an employee has been captured on a digital recording camera and is observed by authorized personnel, Kingston Access Services may use the digital recording as part of an Internal Investigation into the observed improper conduct or behaviour.
3) Kingston Access Services did not install the Digital Recording Surveillance System and use related digital recordings to:
a) monitor the work performance of an employee in real-time;
b) discover improper conduct or behaviour on the part of an employee, unless a digital recording is being viewed as part of an Internal Investigation that is triggered by an event or complaint giving rise to an investigation;
c) cause the release of a digital recording or part thereof except as required under MFIPPA, legal requirements and/or case law. Such release is to be authorized by the Executive Director or designate; or
d) use the records in a manner that violates the legislated privacy rights of the individuals depicted in the digital recording. All use of records will be in accordance with the foregoing, sections 1 and 2.
IV. Installation and Notice of Digital Recording Surveillance Systems
Digital Recording Surveillance Systems that are permanently installed in Kingston Access Services vehicles are placed in overt locations and are accompanied by signage alerting the public, employees and others of the presence of such equipment. In addition, policies regarding digital recording are available to the public through the KAS website.
V. Procedures for Securing, Retaining, and Disseminating Digital Recordings
Images captured by the Digital Recording Cameras are retained by the on-board memory device for up to 30 days (dependent upon amount of use of bus) and then automatically recorded over.
Securing Images
The downloading of information from the on-board recording devices to the systems central computer system is triggered in two ways:
1. Incidents such as accidents and alarms are 'flagged' by the driver for automatic downloading at the end of the day.
2. Images defined by a certain time/location based upon complaint or request through management, public or police in accordance with the foregoing defined uses.
Only the Executive Director or authorized personnel who are qualified Kingston Access Services staff and so designated by the Executive Director are permitted to perform digital recording downloading. A list of qualified staff will be kept indicating the dates of training of each authorized staff.
Retaining Images
Investigation files containing a copy of the incident download and a copy of the incident occurrence documents will be kept by KAS Management as is required by Kingston Access Services for documentation/investigation/resolution/adjudication, or as required by law.
Training and Authorization of designated Personnel
All personnel who fulfill a role as designated above shall have training prior to performing related duties. The training will address this policy, Kingston Access Services Privacy policy, the specific expectations of the individual and the consequences of failing to meet these expectations (noting the consequences include corrective action and disciplinary measures).
VI. Dissemination/Disclosure of Digital Recordings
If Law Enforcement officials request a copy of the digital recording as part of an investigation, a copy will be made by Kingston Access Services, and that will be turned over to the investigating Police service as soon as possible.
Requests by Law Enforcement Officials must be in writing, either by means of written or emailed requests, with such written requests containing the following information:
date and approximate time of incident giving rise to the request
bus and route number if possible
location(s) of incident
description of issue, suspect, vehicle, etc. being sought
officer badge number (person making the request)
occurrence number
Further, KAS, in its recording, shall document the copy of the disk being turned over, the release date and time, and the name of the employee who released the disk. If at any time there is unintended or improper disclosure of personal information contained in Digital Recordings, Management will immediately notify the Executive Director who will undertake such remedial action as he deems appropriate.
Only an authorized maintenance contractor, as approved by the Executive Director, will be given access to effect repairs, conduct routine maintenance, and provide for hardware replacement or address warranty issues. All site visits will be scheduled through Management. All replaced hard drives will be returned to Management for disposal.
Employees who are not authorized personnel shall not have access to Camera Recording Devices or Digital Recordings made by this equipment without first receiving the approval of the Executive Director, or designate.
The digital recording cameras and digital recordings generated by said equipment are the property of Kingston Access Services. Kingston Access Services retains custody and control of all Digital Recordings not provided to law enforcement. Any recordings provided to law enforcement where the recordings depict passengers or members of the public not directly involved in the incident prompting viewing of Digital Recordings, the recordings of faces will be pixilated.
Digital recordings may also be subject to disclosure to third parties in accordance with legal requirements including common law.
Use of Individual's "Still" Pictures
As the result of an investigation for which the Executive Director has authorized release of digital recordings, from time to time it may be necessary to use an excerpted "still picture" of an individual. The two circumstances foreseen in which this may be necessary are:
1. Use of still picture to assist in contacting potential witnesses or participants to the event being investigated. In order to assist KAS to contact potential witnesses or individuals involved in the situation under investigation, the use of still pictures may be required;
2. Banning Notices- To be effective, the banning procedure requires a photograph in order to communicate the subject of the ban to KAS staff. Typically, individuals are banned for conduct which is violent, harassing, or unsafe towards KAS employees or other KAS passengers. The legislative authority to use still pictures for these purposes is either explicit or implicit in the governing legislation (Occupational Health and Safety Act, Ontario Human Rights Code).
VII. Contested Planned or Actual Use of Digital Recordings
Individuals, whose image and/or voice are viewed under this policy by Kingston Access Services, have the right to an explanation upon request as to why the image/voice is being used. All inquires are to be made to the Executive Director. If after receiving the explanation, if the individual is not satisfied with the response, he or she may lodge a complaint with the Board of Directors. The complaint will outline the records in question, their use, and the reason that the Executive Director's response is unsatisfactory. The Board of Directors will respond in writing to such complaints, conducting such investigation and analysis as the Board deems appropriate.
---
---
Finally, from time to time KAB may have more demand than capacity, so we may not be able to accommodate you every time, however we will do the very best that we can.
Questions, problems, concerns, can be directed to the Executive Director, Trevor Fray, at the numbers listed on the contact page, or write to:
Kingston Access Bus,
751 Dalton Ave,
Kingston, Ontario.
K7M 8N6

email: kab@kingston.net.
Please do not hesitate to contact the Executive Director as we welcome your comments and would like to know if our service did not meet your expectations. It is our intent to resolve all complaints to the satisfaction of the complainant - whenever and wherever possible. However , at the very least we will provide an explanation for our actions.

Remember that Kingston Access Bus is a non profit charitable organization. As such we sincerely welcome and appreciate donations. All donations are used to supplement the funding of our Operating and Capital requirements, in an effort to maintain and/or improve service levels. We will acknowledge your donation by sending you an official Receipt for Income Tax purposes. Please make your cheque payable to Kingston Access Bus. (Be sure to provide us with your name, and address in order for us to mail out the receipt.)

THANK YOU.